Gluten Free Leak & Potato Soup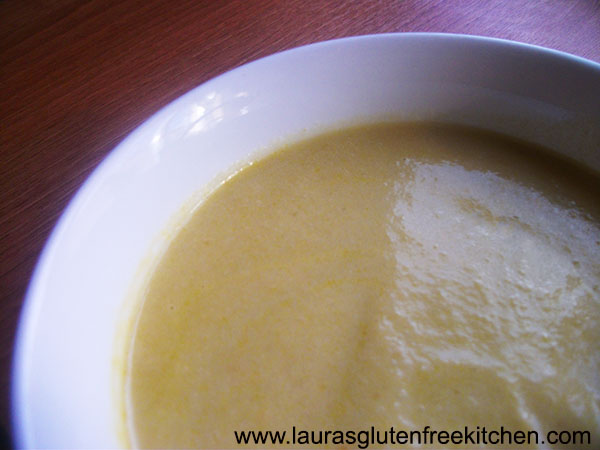 3 Leaks, washed and chopped
1 Onion, diced
3 Potatos, peeled and chopped
100g Butter
100ml of Fresh Cream
1-2 Vegetable Stock Cubes, depending on your liking
Water
In a large saucepan melt your butter on a low heat.
Turn the temperature to a medium heat and saute your chopped vegetables in the butter.
Keep stirring making sure not to burn the vegetables.
Once the vegetables have shrunk in size add the stock cube to a jug and dissolve this in boiling water.
Add stock to the vegetables then add more water to just cover the vegetables, stir, and keep on a simmer for approx 40 minutes or until all the vegetables are soft.
Once cooked, blend using a hand blender until all is pureed and combined. Add more water if you find it to think and stir.
Add your 100ml of cream and stir.
Serve Immediately, or leave to cool and pour into an airtight container to freeze or refrigerate.
As this recipe makes so much soup i usually freeze half. It will store in a refrigerator for up to 4 days and in a freezer for up to 4 months.
Recipe by at https://laurasglutenfreekitchen.com/2016/07/gluten-free-leak-potato-soup/