Gluten Free White Chocolate & Strawberry Ganache Tart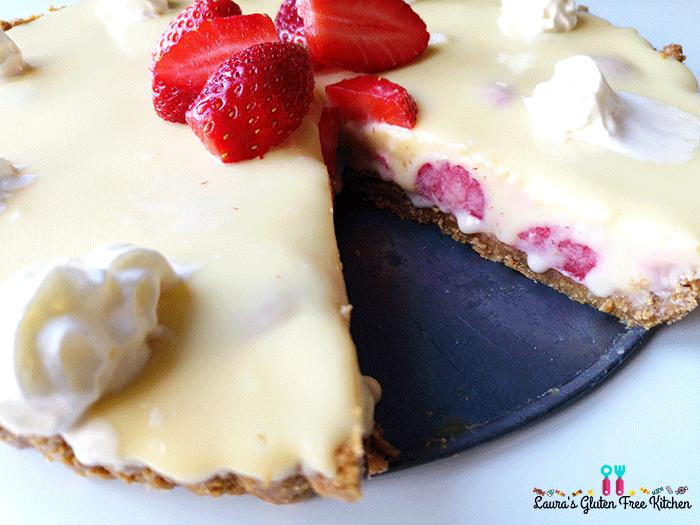 300g Gluten Free digestive biscuits
130g /1/3 cup unsalted butter
350g/2 cups white chocolate
120ml/1/2 cup heavy cream
2 cups fresh Strawberries
Brake up your biscuits until all are crumbs and melt your butter.
Add the melted butter to the crumb and mix until all the crumbs are moist.
Press the mixture into the bottom and up the sides of an un-greased 23cm/9-inch fluted tart tin with a loose base. Refrigerate whilst preparing the filling.
Place the strawberries onto the bottom of the crust.
Place the chocolate and heavy cream in a microwave-safe bowl, and heat in 30 second intervals, stirring after each one, until melted and smooth.
Pour the white chocolate mixture on top of the strawberries.
Refrigerate until firm - about 2 hours.
Leftovers can be kept refrigerated for up to 3 days. This tart also freezes well for up to 3 months. Thaw overnight in the fridge before serving.
Recipe by at https://laurasglutenfreekitchen.com/2018/12/gluten-free-white-chocolate-ganache-strawberry-tart/