Gluten Free Chilli and Chocolate Brownies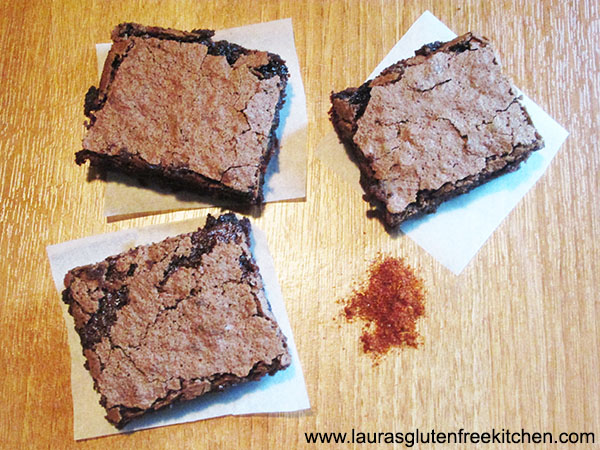 225g Butter
100g Cocoa Powder
4 Eggs
300g Caster Sugar
½ tsp Vanilla Extract
150g Gluten Free Self Raising Flour
½ tsp Baking Soda
2 tsp Chilli Powder
Preheat oven to 180*C/160*C fan/gas mark 4 .Grease a 4cm deep rectangular tin 28cm x 19cm, and line with baking paper.
Melt the butter in a small pan. Remove from heat and stir in the cocoa. leave to cool for 10 mins .
Whisk the eggs , sugar and vanilla extract together in a large bowl until pale and foamy.
Stir in the cocoa mixture, flour, baking soda and chili powder. Pour mix into tin. Bake for 35 mins or until top is firm and center is still soft.
Cool for 10 mins and then turn out onto a cooling wire. When cold cut into squares.
Recipe by at http://laurasglutenfreekitchen.com/2016/03/gluten-free-chilli-and-chocolate-brownies/